DE
Der Feminist Weekender wird über BigBlueButton stattfinden. Weitere Informationen und Tutorials finden sich auf der Seite von BigBlueButton. Grundsätzlich muss keine Software installiert werden, sondern BigBlueButton läuft über eure Web Browser. Die Links zu den Veranstaltungen findet ihr im Timetable. Von unserer Seite wird bei den einzelnen Veranstaltungen ein technischer Support gestellt. Dort werdet ihr bei Problemen unterstützt.
---
Eine kurze Step-by-Step Anleitung:
Den Link zu BigBlueButton in den Browser eingeben.
Dann öffnet sich folgende Seite: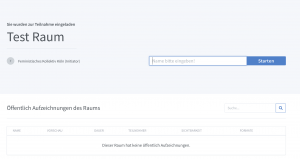 3.  Im Textfeld euren gewünschten Namen eintragen und auf "Starten" klicken.
4.  Im nächsten Schritt kann gewählt werden, ob "mit Mikrofon" oder ohne ("Nur zuhören") dem Raum beigetreten wird. Alternativ kann sich auch per Telefon zugeschaltet werden: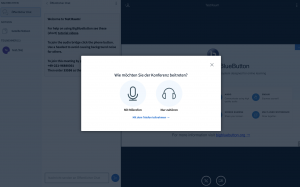 5.  Ihr seid nun im BigBlueButton Raum für die Veranstaltung: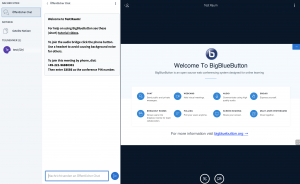 Mehr Infos gibt's außerdem auch hier: https://bbb.kalk.space/Anleitung_BBB_Kalkspace.pdf
---
EN
The Feminist Weekender will take place via BigBlueButton. Further information and tutorials can be found on the BigBlueButton. Basically no software has to be installed, BigBlueButton runs via your web browser. You find the links to the events in the timetable. Technical support will be provided by us for each event. There you will be helped out.

A short step-by-step guide:
Enter the link to BigBlueButton in the browser.
Then the following page opens:

3.  Enter your desired name in the text field and click on "Start".
4.  In the next step you can choose whether to join the room "with microphone" or without ("only listening"). Alternatively, you can also dial in via your telephone: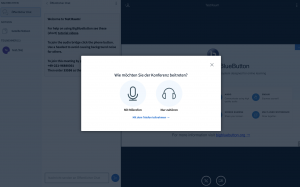 5.  You are now in the BigBlueButton room for the event: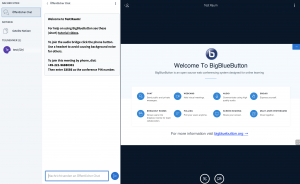 There is also more information here:
https://bbb.kalk.space/Anleitung_BBB_Kalkspace.pdf